Manage Your Process Equipment Project, Not Multiple Suppliers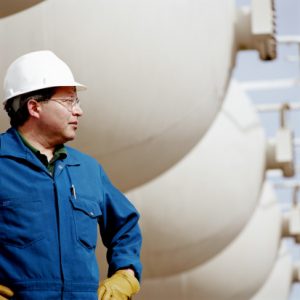 In any equipment maintenance or replacement project — from a simple maintenance job to a full tank replacement during a process shutdown — everything is tight: time, budgets, and resources. Eliminating waste wherever possible brings substantial value.
For example, with a conventional approach to tank replacement in an industrial process system, a project supervisor might look for multiple expert technicians to complete the process in multiple steps.
Engineering and design
Fabrication
Application of corrosion- or abrasion-resistant linings
Application of specialty coatings
Testing
Installation and field service
[sidebar width="275″]
Moon Is More than Just Tanks!
We offer an extensive portfolio of services including:
Steel fabrication of ductwork, stacks, silos, ore bins, and process equipment
AutoCAD-based designs and complete drawings engineered to your and your industry's specifications
Engineering support
Dedicated project management
Full fabrication capabilities
A wide variety of corrosion-control linings, abrasion-resistant linings, and specialty coatings for any industrial process
Technical support and resources
Field service for ongoing maintenance
[/sidebar]However, when you work with multiple suppliers and contractors for all those steps, you end up with increased waste overall: more hassle, more labor costs, more oversight, and more time to complete the project. You also end up with increased risk in terms of potential cost overruns, increased downtime, and even safety exposure as more contractors are working on your site.
If your supervisors are spending exponentially more time managing contractors than managing your process, it may be time to rethink the multisource model.
Moon Fabricating: Your end-to end service provider
We at Moon Fabricating provide a full range of services to ensure completion of any project — on time and on budget. Our full range of design, manufacturing, and coating capabilities result in top-quality equipment that's tailor-made for your specific process.
Single-source responsibility means
complete, turnkey service;
less management hassle for you;
fewer points of contact — and fewer potential points of error;
lower overall cost; and
total engagement and commitment to your project.
We commit our expertise to providing full product research, development, and quality assurance to be sure your equipment is optimized for your specific process needs.
Dedicated service for more than 93 years
Learn about our comprehensive range of products and services:
[download href="https://newsletters.updatesfrom.co/moon-fabricating-corporation/pdf/MoonFabricatingCorporation.pdf" size="small-10″]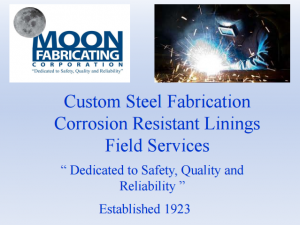 [/download]
We at Moon Fabricating bring nearly a century of experience into play to provide not just products but also creative solutions to fabrication challenges.
We want to share some of that vast experience. That's why we are launching this blog. Each month, we'll post articles that give you insights into trends in industrial processing, information about materials and technology, and best practices in manufacturing and maintaining your critical industrial equipment.
Invested in your success
In any industrial process — from metals, power generation, corn refineries, ethanol, filtration, or chemicals storage — no piece of equipment works in isolation. That's why it's critical that the provider who makes your equipment also understands your business.
We at Moon Fabricating take the time to fully understand and fulfill project requirements. We listen to learn not just what you need from your equipment but also what you need from your entire process. We aim to be a true partner, delivering a turnkey solution.
[cta]What fabrication service do you need? Whether it's custom steel fabrication, corrosion- or abrasion-resistant linings, specialty coatings — or all of these — Moon Fabrication is your single source.
Contact us today to qualify Moon as an approved vendor.[/cta]